Lockeport Loop
Accommodations are plentiful and diverse....

Each and every one of the accommodations occupies a special niche within the loop area. Some offering almost complete isolation, and others offering a bed right in the heart of our community. They all find common ground with a desire to uphold a high standard of comfort and service.

The Collins Cottages

These two private cottages located on Jordan bay are the perfect resting point for the avid explorer! They offer over 1500 feet of rugged, untouched Nova Scotia coastline and 68 acres of unimpeded woodland to explore.
Located half way between The Historic town of Lockeport, and the town of Shelburne (about 20 minutes in to either one). The Collins Cottages offer their guests an optimum location from which to venture out on day trips to explore the rest of our county.
Each cottage has 2 bedrooms and is comfortably equipped to handle the needs of any visitor. For more info, visit www.easycareproperty.com
Ocean Mist Cottages - Nova scotia Beachfront Cottage Rentals
Six two bedroom winterized cottages located just fifty feet from the mile long white sands of Crescent Beach. The cottages are tastefuly decorated and fully equipped with all the comforts of home but without the distractions. Each unit has a full kitchen and four piece bath. Furnished with locally crafted pine furniture and cathedral ceilings.
Let nature surround you with early morning ocean mist and afternoon sunshine as you bask in the sun on your front veranda. The deck offers a panoramic ocean view of Gull Rock Lighthouse, the beach as well as many sea and shore birds. Open year round. Email info@oceanmistcottages.com
For more infomation, visit their website at www.oceanmistcottages.com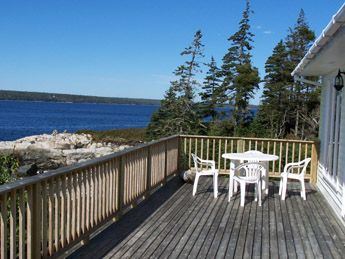 Double-click to edit text, or drag to move.
Double-click to edit text, or drag to move.
Double-click to edit text, or drag to move.
The Seeblick Cottage
This single cottage offers the utmost privacy and is perched on a hill overlooking Allendale Bay. Situated in the small village of Pleasant Point, this accommodation is still just a five minute drive to the amenities found in the Town of Lockeport and beaches in both directions. It is equipped with a large deck where you can enjoy nature and the beauty of an ocean view.
For more information visit their website at www.seeblickcottage.com
open year round.